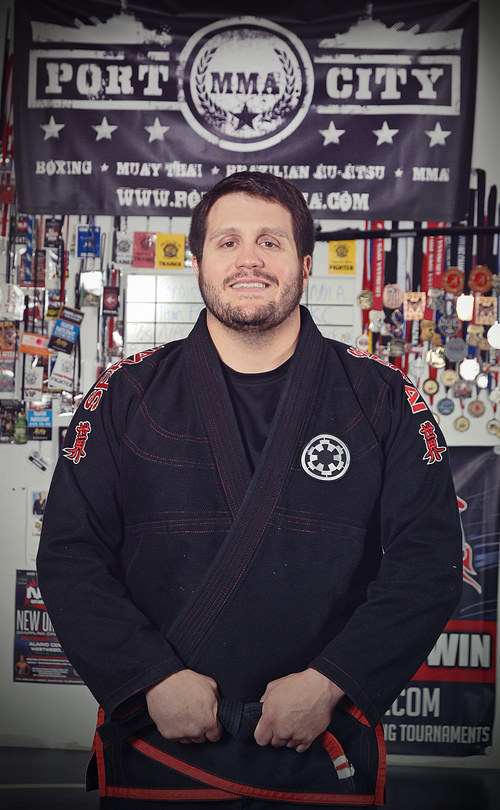 Head Trainer
Jimmy Mills is a well-rounded former professional MMA and Muay Thai fighter with multiple championship titles under his belt. He has won championships in: MMA , Kickboxing, Boxing, Submission Wrestling, Brazilian Jiu-Jitsu.
Over the years, Jimmy has trained with some of the best fighters around the world, and has competed in many professional league competitions:
He has fought professionally around Europe and North America & has cornered his fighters all over North America, in Europe, & in South America. 

He trained in Thaiboxing in Holland with the best kickboxing team in the world — Golden Glory (now Hemmers Gym Netherlands) — working on a daily basis with the greatest kickboxer to ever live: Ramon "Diamond" Dekkers.
He was promoted to Blackbelt in Kickboxing by Professor Duke Roufus.

He is a second degree black belt in Brazilian Jiu-Jitsu, having trained under world champions Rafael Ellwanger, Helio Soneca,  and Adriano Lucio. 

Jimmy has also spent many years training in the grappling art of Russian Sambo and was the first & only American Sambo Association certified instructor in the state of Alabama.

He is also a brown belt in judo under Tiago Goncalves & Patrick Fruge. 

Jimmy holds two B.S. degrees (biology and economics) from the University of South Alabama and two A.S. degrees (biology) from Faulkner State Community College. He is also a published scientist having co-authored a genetics paper on MicroRNA origins.
Professor Jacob Jeffers

Jacob became interested in martial arts at a young age and started wrestling in middle school while living in Florida. His family later moved to Mobile and he graduated from Baker High School in 2003 where he was a starter on the varsity football team. In 2002 he received the Academic Athlete of the Year award from the AHSAA for having the highest GPA of any football player in the state of Alabama. Upon accepting a scholarship from the University of South Alabama he began studying computer science. Jacob graduated with honors from USA in 2009 with a B.S. in computer science. Jacob began formal Brazilian Jiu-Jitsu classes with Port City Kickboxing Academy in 2009. Since he began training with PCMMA, he has won a national championship, southeastern regional championship, and state championships in Louisiana, Mississippi, Alabama, Florida, and Georgia. Jacob received his black belt in 2019.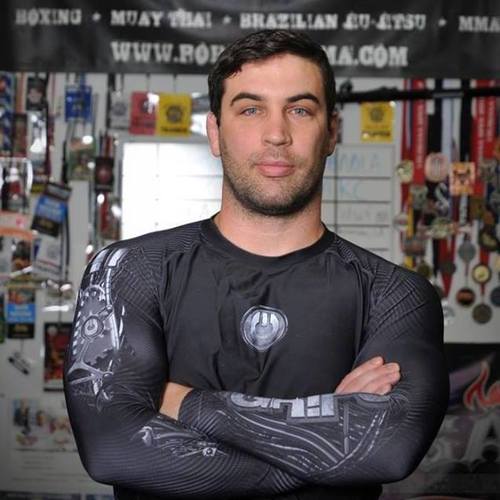 Adam Hicks
Adam started wrestling at the age of four while growing up in central Pennsylvania. After posting a 21-3 record with 3.8 GPA as a senior at Mount Union Area High School in PA, he was named first team Academic All-State. He received a Bachelor's degree in computer science at Pensacola Christian College while lettering in wrestling all four years from 2001 to 2004, winning 103 matches against NCAA Div I, II, III, and NAIA competition. During the summers he competed in several Greco-Roman and Freestyle competitions, winning tournaments along the panhandle from Pensacola to Jacksonville. He finished his career as a two-time NCWA All-American. He earned a Master's of Science in computer science from the University of South Alabama after his college wrestling career. Adam is a purple belt in Brazilian jiu-jitsu. He has won the advanced division Nogi championship in the absolute division at the Louisiana, Alabama, and Florida Championship tournaments & was a runner up at the 2018 & 2019 IBJJF World Championships.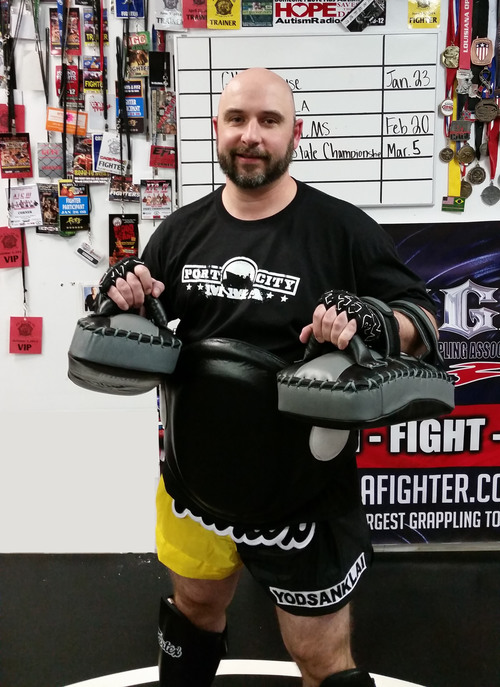 Kru Chris Lovell
Muay Thai Coach
Chris is a great teacher and student of kickboxing. He is a certified level 1 Kru under Vince Soberano in Muay Thai and a black belt in San Shou. Chris has lived and trained in Thailand and China. He has also worked with many professional MMA fighters and kickboxers. Chris graduated from the University of South Alabama School of Nursing with his B.S. in nursing. In May 2014 he graduated from the Nurse Practitioner program at USA with his Master's of Science. He is currently an orthopedic nurse practitioner at a busy local orthopedic practice. He was also promoted to Blackbelt in Kickboxing in 2022 by Professor Duke Roufus.
Kickboxing Coach/Kids Instructor
Mike Barnett graduated from Barstow High School in 2007. He played basketball, football, ran track, and wrestled. After high school he decided to attend the University of South Alabama in an attempt to be closer to his family. Mike graduated from USA with a degree in criminal justice in 2012 and decided to pursue a career in law enforcement. He went to the police academy and was hired by the Mobile Police Department upon graduation from the academy. He currently serves and protects the citizens of Mobile as an officer. Mike began training at Port City Kickboxing Academy in 2009, and has won several grappling tournaments, MMA contests, and remains an undefeated boxer and kickboxer. He is a purple belt in BJJ and has won many title including the NAGA US National Championships.  Mike is one of the most decorated Professional MMA competitors on the gulf coast. He's held the lightweight titles for Island Fights Championships (Pensacola, FL), Renaissance MMA (New Orleans, LA), and Fight Force International (Biloxi, MS). Mike has served as the assistant kids MMA and kids kickboxing instructor since 2010, and does a great job helping out and coaching the students. Mike is a huge part of helping to make Port City Kickboxing Academy the special place that it is.
Professor Adriano Knebl
BJJ Instructor
Adriano Knebl was born in Brazil and began training martial arts at a very young age with Judo and Karate. At the age of 20 years old, he started training Brazilian Jiu-Jitsu earning his black belt back in 2019. Adriano has been teaching the art of Brazilian Jiu-jitsu for kids and adults since 2009. He has been competing since the early 2000's, winning several competition events such as Grapplers Quest, NAGA, Florida State Bjj and Pan American Bjj. Teaching Brazilian Jiu-Jitsu is his passion.
Professor Joel Forsyth
Teens BJJ & Adults BJJ Instructor
Joel graduated from Faith Academy in 2003 and began studying computer science at the University of South Alabama. After earning his bachelor's degree in 2009, he decided to try Brazilian Jiu Jitsu with only the goal of trying to lose weight and stay active. He joined the Port City Combat Sports team and soon began teaching kids classes. This developed into a deep passion for the sport and, in 2014, led him to become a MMA and BJJ referee. Joel is now motivated by teaching and seeing others succeed in BJJ. Joel received his black belt in 2021.

Professor Arron Shirazi
BJJ Instructor
Shirazi started training with us when he was a junior at Murphy High School.  He continued his training while attending Springhill College while studying accounting.  Shirazi has competed in superfights on FloGrappling and has been to many competitions. Shirazi was promoted to Orange belt in Judo by Sensi Patrick Fruge recently. He is a great coach and teammate and specializes in leg attacks and nogi BJJ.  Professionally he works as a corporate CPA and is also pursuing an MBA on the side. 
Professor Marcus Graham
BJJ Instructor
More information about instructors coming soon!
Sensei Patrick Fruge
Judo Instructor
Patrick is a currently a Black Belt (Shodan) in Judo under 4th dan black belt, sensei Tiago Goncalves. He has 4 years experience teaching both kids and adults Judo and has a level 1 coaching certification under the USA Judo Association. Patrick is a believer in proper technique, utilizing speed and explosiveness rather than brute force and credits his teaching style to Sensei Goncalves. He loves Judo and loves sharing both the techniques and traditions of Judo with the Port City family. He has competed in and won tournaments all over the southeast and is also a competitive triathlete (recently completing a 1/2 Ironman).  Patrick is currently attending the University of South Alabama where he is working on earning his Masters in Computer Science.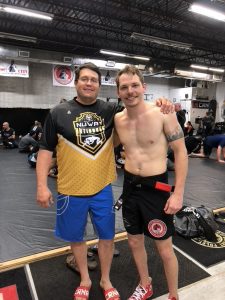 Professor Chase "Red" Gatlin
BJJ Instructor
Red is NoGi specialist who has won many tournaments over the years.  He began training BJJ at an early age and has focused all of his efforts on becoming the best NoGi grappler & coach he can be. Red studied the 10th Planet system for many years and trained under some of the top 10th Planet coaches from the organization. He was promoted to Black Belt by Professor Jimmy Mills in May of 2022!
Kids BJJ, Adults BJJ, & Kickboxing Instructor
Ryder started training with Professor Mills while he was a high school student.  After taking some time away from combat sports he started back training and has become a great martial artist and instructor.  He does a great job coaching and working with all of our kids. 
Wresting Coach
Sammy was a 2-time Kansas High School State Champion & he took 4th place finish at the 2016 Freestyle nationals. He received many scholarship offers out of high school, but chose to wrestle in the nations premier wrestling conference the Big10 for Indiana University where he was a starter for the Hoosiers.
Sammy is coaching the varsity Port City Wrestling Club team & will lead the team to compete folkstyle, freestyle, & greco.
Professor Blake Jordan
Wrestling & BJJ Coach
Blake started training with us while he was in high school at Faith Academy.  He won many adult BJJ tournaments as a high school student and went on to wrestle in college. Blake does a fantastic job coaching both wrestling and BJJ and is also a great cornerman for our competition team. He was promoted to BJJ Blackbelt in 2023 by Professor Jimmy Mills and became Port City Combat Sports 8th BJJ BlackBelt!
Kickboxing & BJJ Coach
Moody has been training consistently since 2018 and recently received his purple belt in BJJ from Professor Marcus Graham.  He has competed on FloGrappling on numerous events and has won money divisions in SubOnly tournaments. Moody has been to World Championships, Pan American Championships, and qualified for USA Grappling world team trials. He is available for privates and group classes.