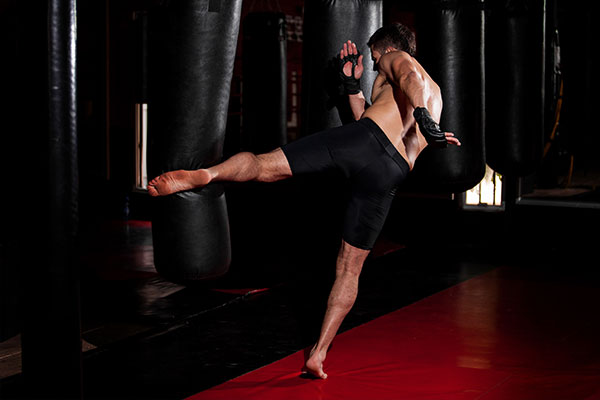 At Port City Kickboxing Academy, we are proud to train professional competitors as well as amateur enthusiasts. Whether you're simply looking to enjoy the physical, mental, and emotional benefits of martial arts, or you're on a path of championship-winning self-transformation, we are here to help take you to that next level. 
Self discipline, self improvement, self defense — these are all fundamental components that martial arts schools strive to indelibly inscribe in their students. However, that is only part of what Port City Kickboxing has to offer. With our classes in kickboxing, Brazilian jiu-jitsu, and other self defense classes, we want to work with you to achieve your unique goals. That's why we bring together a wide variety of martial arts disciplines. After all, why limit yourself to just one form?
The advantages of MMA are clear — you get greater exposure to different disciplines, you discover what forms are most effective, and you challenge your body and mind in inventive new ways every single day. Practicing mixed martial arts is like learning multiple languages at once. And then even when you know the different languages individually, the next challenge is to be able to effectively transition between the different languages in response to whatever unique situation you encounter. 
To get to this level of excellence takes work. And it's certainly not the right path for everyone. Whether your aim is to win competitions or to simply become skilled in Brazilian jiu-jitsu, the benefits of having the support of experienced coaches and going on the journey with fellow travelers — making good friends along the way — is an unparalleled experience. Port City Kickboxing Academy strives to empower you to become better than you thought possible — whatever "better" might mean for you.
We've served our community with world-class training since 2007, and thanks to the experience and dedication of our teachers, we are proud to say that we train winners.
The reason we are successful is because we understand that everyone comes into MMA with different goals and motivations.
When you train with us, we'll get to know you and help you maintain your strengths and work through your weaknesses. Whether you want to compete professionally or you simply want to practice the art for its own sake, if you bring a great attitude, there's no limit to how far you can go.
Contact us today for your free class!